Hannah Wood, MA, NCC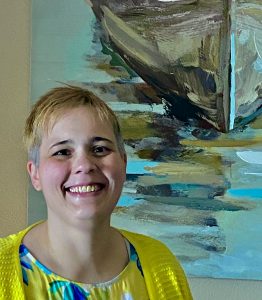 Living in this world has never been easy. Trying to move progressively through life figuring out who you are and what you value in the midst of seeking approval from friends and family can be exhausting and isolating. This has been compounded in the past years by a global pandemic, halting or slowing social-emotional growth. Anxiety, depression, eating disorders, substance use, and other mental health concerns are emerging from people of all ages.
Counseling can help. Knowing there is someone to come alongside you as you wrestle with the normal changes of life and any extra challenges that appear can bring hope to everyone.
In session, Hannah is person-centered and eclectic, pulling from modalities such as Acceptance and Commitment, Cognitive Behavioral, and Dialectical Behavioral Therapies. When working with children, she uses play therapy because through play a child can communicate and express
themselves in a fundamental way which fosters growth.
After spending the past 10 years as a high school teacher and walking her own mental health
journey, it became clear that her place was not the classroom but instead working one on one
with individuals embarking upon their own path of wholeness where they are seen and heard
for who they are. Life is not meant to be lived alone and Hannah deems it an honor to walk with
you.
Hannah is currently a National Certified Counselor (NCC) and is working towards her Licensed
Professional Counselor, Mental Health Service Provider license in the state of Tennessee.
Education
Master of Arts, Clinical Mental Health – Liberty University, 2023
Master of Arts, Secondary Education, Curriculum and Instruction – Lincoln Memorial
University, 2011
Master of Arts, Biblical Counseling – Luther Rice University, 2008
Bachelor of Arts, Psychology – University of Tennessee, 2005