Anna Jenkins, MS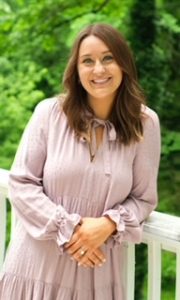 I am a dedicated Master's level Nationally Certified Counselor on a path toward full licensure as a professional counselor (LPC-MHSP). My passion lies in working with diverse clients, ranging from children and adolescents to individuals navigating the journey of adulthood and beyond. As a person-centered therapist, I firmly believe in the transformative power of the therapeutic relationship.
During our sessions, my utmost priority is to create a safe and trusting environment where you can freely explore your potential for personal growth and foster self-acceptance. I highly value Child-centered play therapy as a powerful means of communication, especially for clients aged 10 and younger, recognizing the profound significance of play in their lives.
Alongside my foundation in person-centered therapy, I seamlessly incorporate techniques from various approaches such as Narrative Therapy, Feminist theory therapy, and Cognitive Behavioral Therapy as appropriate for your needs. I have received specialized training in Child-Centered Play Therapy, Telehealth Therapy, and hold a certificate in Grief, Loss, and Trauma Counseling.
Currently, I am serving as a pre-licensed counselor at Life Connections Counseling Services. In 2021,  I successfully completed my Master of Science degree in Clinical Mental Health Counseling and School Counseling from the University of Tennessee. With an unwavering commitment to providing high-quality care, I am actively pursuing full licensure in the state of Tennessee (LPC-MHSP). Furthermore, I hold a certificate in counseling individuals through grief and loss, reinforcing my dedication to addressing complex emotional experiences.
Telehealth Link:   Anna Jenkins, MS